Mission Gateway is making steady progress, at a pace city officials and the developers believe is right on track — at least for the time being.
The project sits along Shawnee Mission Parkway, near Roe Avenue and Johnson Drive, where very little has come out of the ground since the early years of the project, announced 16 years ago.
Recently, the Planning Commission gave unanimous approval for the developers' tax increment financing plan. The remainder of August and early September will be filled with procedural steps. The City Council will vote on the TIF plan on Sept. 28.
In March 2020, the developers said they would pause work for 30 days in response to Covid-related safety concerns. However, city officials announced that June that developers Cameron Group LLC and GFI Development Co. would not resume work that summer because of the pandemic's effects on the municipal bond market and private mezzanine financing.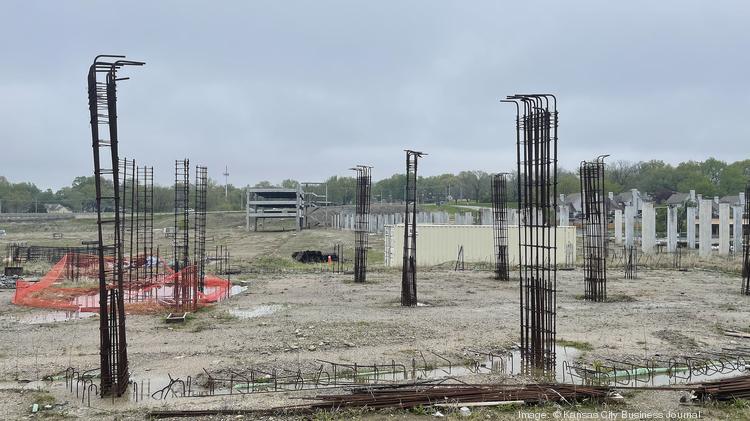 When the developer's previous development agreement expired in December 2021, the city's negotiating position also expired, leaving the site up in the air — until this past February.
That's when New York-based Cameron Group and GFI proposed a revised $268 million plan. Since then, as they have continued to work with city officials, the plan has changed slightly:
Retail/commercial space shrunk from 195,094 to 139,752 square feet.
Apartments increased from 168 to 373.
Hotel rooms remained the same at 202.
Office/medical space increased from 75,000 to 100,000 square feet.
The parking structure remained the same at 1,457 surface and structured spots.
The city and the developers have homed in on building the project sustainably (through Green Globes, LEED certification or something related) and ensuring that 20% of residential units are attainable.
The construction timeline has adjusted with the changes. The first phase will include the hotel, apartments, food hall, parking, Cinergy entertainment center and a retail complex on the ground floor of a second apartment building.
Construction won't begin until 2023, pending city approval and building permits. The developers still target a 2025 completion.
"We're working together to eliminate as many variables that risk the project not being built," City Administrator Laura Smith said. "They've reworked certain components of their request to be reflective of the current values of the council."
Smith said the developer has not been under any of the previous incentive agreements or received any sort of tax incentive, nor will it until a project is completed.
Mission requires developers to escrow money in advance of a project. Smith said it requires developers — not the city or its residents — to cover the costs of the review and the analysis behind a proposal.
Mission Gateway developers Cameron Group, GFI plan to restart construction in 2023 – Kansas City Business Journal