The corner of 5th and Grand Boulevard in Kansas City's River Market district has, until recently, been vacant. Its prime location one block from the new Kansas City Streetcar line was wasted as a makeshift weekend parking lot. Omaha-based developer Cornerstone Associates, LLC had a vision of what the site could become and brought NSPJ in to realize that vision.
The site will now be the home of 531 Grand, a multi-use building with a mix of residential and commercial spaces and a two-level parking garage. A mixed-use building provides both residential opportunities for the growing number of people who want to live in downtown Kansas City and retail space for future stores that will bring additional tax revenue to the community. Close proximity to the City Market's many restaurants, bars and stores, plus easy access to the major highways, makes 531 Grand ideal for young professionals, young couples, and empty nesters.
In creating the design for 531 Grand, we started by determining what would appeal to the target resident markets. We worked closely with consultants to ensure all of the pieces work cohesively in the design phase, and we continue to work closely with the client to incorporate emerging trends throughout the evolution of the project.
We also focused on making sure the design of the new building fit in with the distinct, historic identity of the River Market. The building architecture directly responds to the area's history, while at the same time integrating modern materials like metal panels and glass.
The ground floor will house approximately 10,000 square feet of retail space facing Grand Boulevard and the residential lobby entrance on Missouri Avenue.
531 Grand will include 140 residential units ranging from 494 square-foot studios to 1,721 square-foot two-bedroom units with dens. The internal clubhouse will feature an internet cafe, a full kitchen with bar, a dining area, and entertainment areas for watching TV and movies, shooting pool, and playing games. The fitness room will have state-of-the-art equipment, a view of the swimming pool terrace, and complimentary beverage fridge and towel service. On the terrace, residents will enjoy an elevated pool with sundeck, a fire pit, a grill area, and expansive views of the downtown Kansas City skyline. Free WiFi access will be available throughout the building common areas, with hook-ups for Google Fiber in individual units.
All units will also include stainless steel appliances and quartz countertops, which resist scratch marks, knife cuts, and bacteria, making them the perfect choice for people who love to cook and want to take advantage of being one block from the Farmers' Market. Bedrooms and kitchen islands will include USB ports so residents charge their mobile devices where it's most convenient for them. In-unit washers and dryers provide even more convenience for residents. Certain unit plans also feature cove lighting (indirect recessed lighting), curtain walls, lofts, and high ceilings.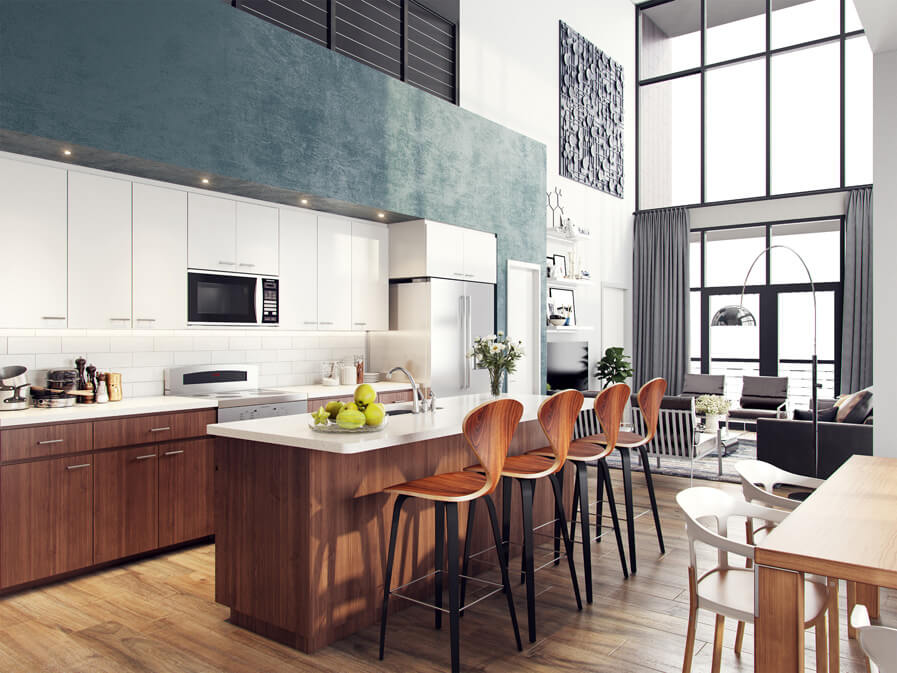 We broke ground for 531 Grand on June 6, 2016. Now that construction is underway, we will continue to work with the client and the contractor throughout construction until the project is complete. We'll be onsite to observe the construction and ensure that the design intent is being carried out and the client's expectations are being met.
Press
"531 Grand apartment project in River Market nears kickoff," MetroWire Media, March 22, 2016